Kowloon Markets Walk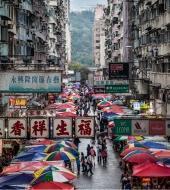 We start our guided walk along Hong Kong's historic harbour front, where we introduce the history of Kowloon. Here we will see well-known Hong Kong landmarks such as the old Railway Clock tower, 1881 Heritage and the Peninsula Hotel. Our guided walk then takes us through the back streets of Kowloon and into the daily lives of local residents. We walk through colourful streets and come across some of Hong Kong's most lively markets, where you will feel first-hand the energy and soul of everyday Kowloon.
Highlights:
Yau Ma Tei district
Mong Kok district
Flower Market
Yuen Po Street Bird Garden
Fa Yeun Street Market
Goldfish Market
Ladies Market
Tin Hau temple
Banyan Tree Park
Jade Market
Departure Point: outside the Hong Kong Tourist Board Office, Star Ferry Terminus, Tsim Sha Tsui, Kowloon side
Departure Time: 2pm
Duration: 3 hours

Tickets sent by email!
Powered by Ticketbar