Archabbey St. Peter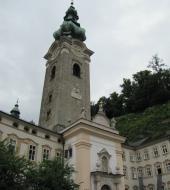 Rupert, a Franconian missionary, came to Salzburg, the former Roman Juvavum, around 700 and founded St. Peter's Church and a monastery, still extant as the oldest community of monks on German soil.
Romanesque architecture is still clearly discernible inside St. Peter's Church. However, the many altars display the church's rococo design. The remodeling to the rococo style took place in the 18th century under the energetic and art-oriented Abbot Beda Seeauer.
One of the chapels in the south aisle contains the memorial for Johann Michael Haydn, a marble plaque for Mozart's sister, Nannerl, and the tomb of Field Marshal General Hans Werner von Raitenau, Wolf Dietrich's father.
Thirteen-year-old Mozart composed the Dominicus Mass in 1769 for the later Abbot Hagenauer and conducted his famous Mass in C minor in the church in 1783; his wife Constanze sang the soprano part. Johann Michael Haydn wrote the Rupert Mass for St. Peter's in 1782.
Location: St. Peter Bezirk 1, Postfach 113, 5010 Salzburg
Meeting Point:
Meeting Time:
Duration:

Tickets sent by email!
Powered by Ticketbar