Mozart's Birthplace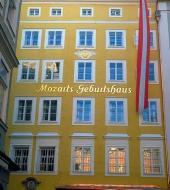 The family of Leopold Mozart lived in Getreidegasse No. 9 from 1747 to 1773. Wolfgang Amadeus Mozart was born in this house on 27 January 1756. The rooms formerly occupied by the Mozart family are now a museum. They are located on the third floor of the "Hagenauer House", named after the merchant and toy dealer Johann Lorenz Hagenauer (1712-1792), who owned the building and was a friend of the Mozart family.
The original Mozart rooms contain autographs, documents, memorabilia, and most of the portraits painted during his lifetime, including the unfinished oil painting "Mozart at the Piano" painted by Mozart's brother-in-law, Joseph Lange, in 1789. The exhibited instruments include Mozart's grand piano, his child violin, his concert violin, his clavichord, and the harpsichord.
Mozart's residence is within walking distance across the river Salzach on Markart Square which borders on Mirabell Palace and the Mirabell Gardens.
Location: A-5020 Salzburg, Getreidegasse 9
Opening Hours:
Daily 9 am – 5.30 pm
(last entry 5 pm)
July / Augst:
until 8 pm
(last entry 7.30 pm)
Meeting Point:
Meeting Time:
Duration:

Tickets sent by email!
Powered by Ticketbar