Mozart's Residence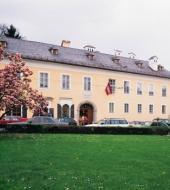 The so-called "Tanzmeisterhouse" (dancing master's house) on Markart Square No. 8 (formerly Hannibal Square) was home to the Mozart family from 1773 to 1787. The spacious residence was large enough to receive friends and musicians. The actor, theater director, and librettist of "The Magic Flute," Emanuel Schikaneder was a frequent visitor. In this house Wolfgang wrote symphonies, divertimenti, serenades, piano and violin concerti, and a bassoon concerto, arias, masses, and other sacred music.
Mozart's mother died in Paris in 1778, Mozart's sister Nannerl married and moved to St. Gilgen in 1784, leaving Leopold to live alone in the spacious quarters. In 1785 his grandson, Leopold Alois Pantaleon, was born at the house and left in the care of his grandfather. The house had various owners after Leopold Mozart's death on 28 May 1787. A bomb struck the house in 1944, destroying everything except the entrance staircase and the "Tanzmeistersaal." The house was bought by the International Mozarteum Foundation in 1989. They had the building torn down in 1994 and reconstructed according to old plans.
Today the house is a museum and visitors are able to see numerous exhibits regarding Mozart's life and travels as well as learn more about the history of the building.
Location: Makartplatz 8, 5020 Salzburg
Opening Hours:
Daily 9 am-5:30pm*
July, August: daily 9 am-8pm*
*last entrance 30 min. before closing
Meeting Point:
Meeting Time:
Duration:

Tickets sent by email!
Powered by Ticketbar