St. Peter's Cemetery in Salzburg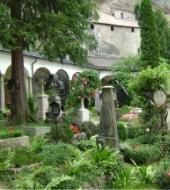 St. Peter's Cemetery with its unique ambiance is one of the oldest and most beautiful cemeteries in the world. It is the final resting place for a number of famous personalities, artists, scholars, and businessmen:
Santino Solari (architect and builder of Salzburg Cathedral), Nannerl Mozart (Mozart's sister), Lorenz Hagenauer (the Mozart family's landlord and friend), Michael Haydn (composer and Joseph Haydn's younger brother), Paul Hofhaimer (organist and composer), Sigmund Haffner (alderman and mayor, friend of the Mozart family, "Haffner Serenade" and "Haffner Symphony" by Mozart), Richard Mayr (opera singer, first "Ochs von Lerchenau" in the Salzburg Festival's Rosenkavalier), Harry Collins (last commander of the American occupying forces who later lived in Salzburg, one of the city's honorary citizens).
Location: Sankt-Peter-Bezirk 1, 5010 Salzburg
Meeting Point:
Meeting Time:
Duration:

Tickets sent by email!
Powered by Ticketbar